Teachers at a table
ABOUT UTEACH PROFESSIONAL DEVELOPMENT
UTeach Professional Development offers opportunities for comprehensive blended learning implementation support for your district with award-winning blended learning facilitators, strategies to support your teachers as they create job-embedded activities, and access to a network of 3,000+ Texas educators working to integrate blended learning into their classrooms. 
At UTeach PD, we remain steadfast in our commitment to enhancing K-12 education by providing high-quality, STEM-focused professional learning experiences to in-service teachers across Texas and beyond. Our array of courses, meticulously curated and guided by UTeach Master Teachers, caters to educators across grade levels and disciplines.
In addition to our self-paced courses, we offer virtual, synchronous, and in-person blended learning professional development.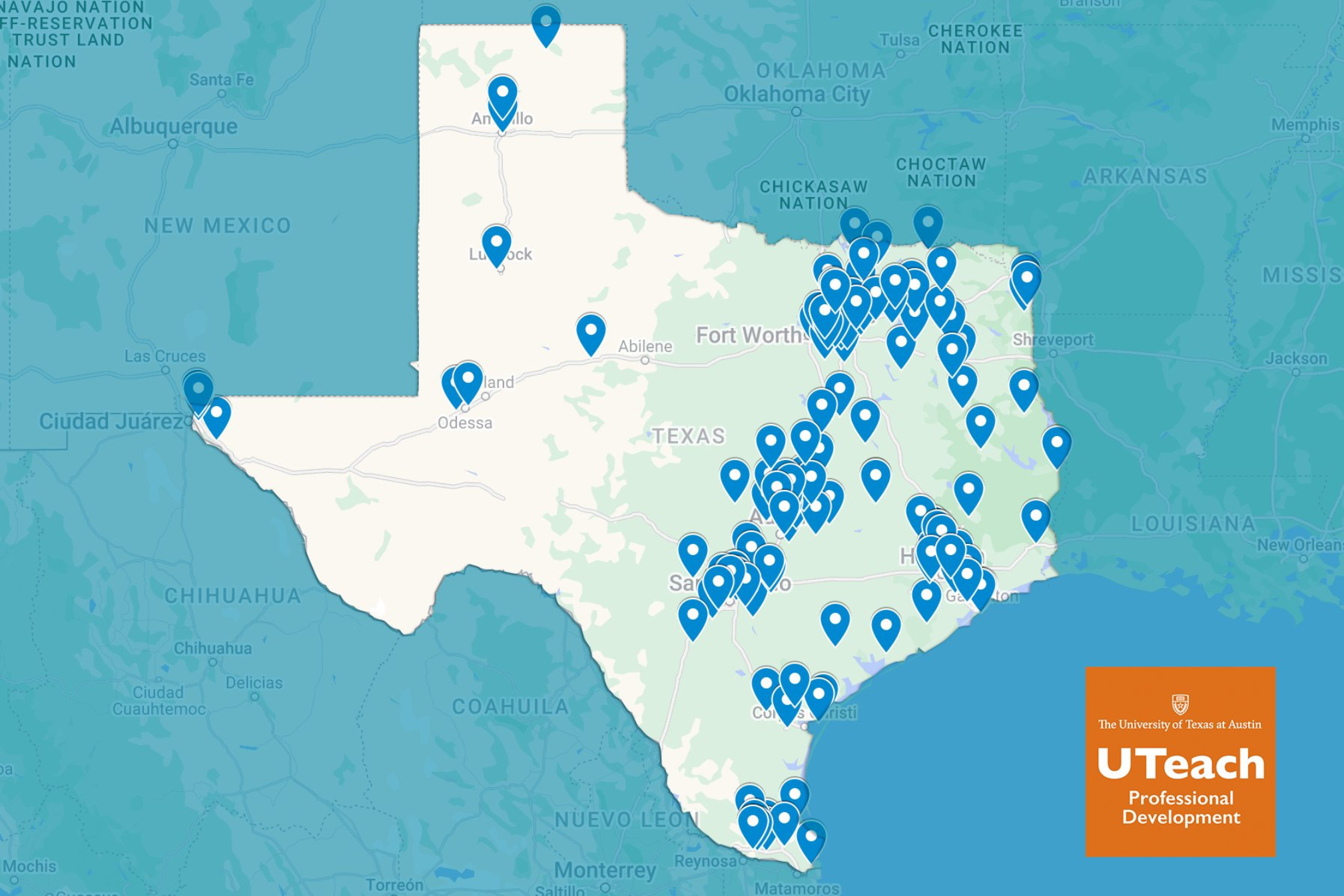 STAFF
Dixie

Valdez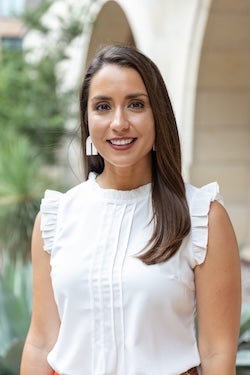 Dixie Valdez is the Manager for UTeach Professional Development. In her role, she collaborates with academic partners to plan, develop, and implement professional development opportunities for inservice teachers and staff nationwide. Dixie partners with districts and schools to develop long-term professional development programs that support academic initiatives and educator training and development.
Dixie has more than 20 years of experience working in public education. Her passion for public education began when she was an undergraduate student at The University of Texas at Austin, where she received her B.A. in Applied Learning and Development. She started her career as a kindergarten inclusion teacher and was awarded Teacher of the Year in 2011. After teaching for five years, Dixie was hired as the first Early Childhood Instructional Specialist for North East Independent School District in San Antonio. She then worked for San Antonio ISD as a special projects and professional development coordinator. 
Dixie received her Masters in Public Administration with a Nonprofit Leadership and Management Certification in 2021 from The University of Texas at San Antonio. She was the recipient of the Ruben Munguia Scholarship for her work advocating for improved recess policies at the state level.
She is the mom of three rambunctious boys and a proud Army wife. In her spare time she enjoys spending time with all of her boys, cheering on the Longhorns, and traveling.
Kelli Allen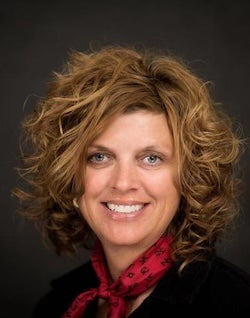 Kelli Allen is the UTeach Professional Development coordinator. In this role, Kelli develops professional development opportunities that are innovative, interactive, and job embedded. She is the lead developer of the online Blended Learning courses that have helped thousands of educators become blended learning teachers. Kelli also develops and conducts face-to-face professional development to teachers in Texas and presents at state and national conferences.
Kelli has also been a science Master Teacher with the UTeach undergraduate STEM teacher preparation program at The University of Texas at Austin since 2007. She observes student teachers, provides feedback, and co-teaches the Apprentice Teaching seminar. Kelli also serves as the Induction Support Specialist where she provides personalized assistance to beginning teachers.  Since joining UTeach, Kelli has mentored thousands of educators who stay in teaching longer, improve student performance, and influence students to enter STEM fields.
Kelli has been involved in education for 30 years. As a science teacher, she earned National Board Certification in Early Adolescence Science and won the National RadioShack Teacher Award. She was chosen as the Outstanding Young Educator for Kansas and a Kansas Teacher of the Year Nominee. In 2019, Kelli received the University of Texas College of National Sciences Teaching Excellence Award. In 2022, Kelli received the Skoog Cup College Faculty Award from the Science Teachers Association of Texas (STAT) for her significant contributions to and leadership in the development of quality science education in Texas.
Kelli earned her B.S. in Biology Education in 1992 and an M.S. in Biology in 1998, both from Pittsburg State University in Kansas.
Kelli and her husband, Lucas, live on a ranch in Llano, Texas, with cattle and horses and are highly active in the production and participation of team roping. Their two sons, daughter-in-law, and grandson all participate in the sport of rodeo.
Peggy Pitts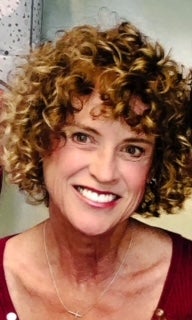 Peggy is the Program Coordinator for UTeach Professional Development. She works with the UTeach alumni support team to bring professional learning opportunities to the National UTeach Alumni Network and other in-service teachers.  She serves as the success coach in supporting the Blended Learning PD initiative.
Peggy acted as the Co-Project Director for the UTeach Science Regional Collaborative for six years partnering with the Texas Regional Collaborative and in-service teachers in the Austin area to implement inquiry-based instruction. Before joining The University of Texas at Austin in 2012, Peggy taught in Lewisville Independent School District and implemented a summer program for at-risk students. While teaching in Lewisville, Peggy was named Teacher of the Year in 2009 and Lewisville Top 100 Women. In 2019, Peggy received the University of Texas College of Natural Sciences Staff Excellence Award.
Peggy is a graduate of The University of North Texas, with a B.S. in Interdisciplinary Studies and an M.S. in Computer Education Cognitive Systems.
Alexandra Eusebi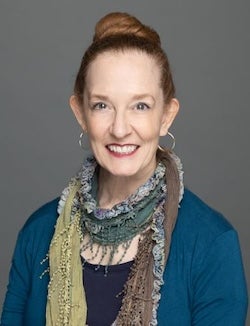 Dr. Alexandra Eusebi is an assistant professor of practice with the UTeach program at the University of Texas at Austin. She instructs and supports multiple courses in the UTeach program and College of Education, including Introduction to Inquiry-Based Learning (UTS 101: Step 1), Introduction to Inquiry-Based Lesson Design (UTS 110: Step 2), and Project-Based Instruction (EDC 365E).
Alex earned her Ph.D. in Chemical Engineering from The University of California, Los Angeles. She has been working in education and teaching for close to 20 years and has 13 years of experience teaching and writing curriculum for secondary mathematics. She is also a facilitator for UTeach Professional Development courses.
FACILITATORS
Emily Jones, Lead Blended Learning Facilitator
Emily Jones has been with the UTeach Blended Learning PD Team since 2018. She enjoys both learning from the innovative ideas of the educators working through the courses and offering specific and positive feedback to guide the teachers and administrators as they transition to a blended learning approach. Emily understands the perspective of our participants, as she herself completed a series of online UTeach PD courses focusing on both inquiry-based and blended learning. 
A former Army Officer, Emily taught secondary math at St. Dominic Savio Catholic High School in North Austin after receiving her post-baccalaureate certification in Math 8-12 from UTeach at the University of Texas at Austin. She holds a B.S. in Russian and Systems Engineering from the United States Military Academy at West Point and an M.S. in Health Services Management from the University of LaVerne, California.
Robyn Fender, Blended Learning Facilitator and Blended Learning Coaching and Collaboration Course Lead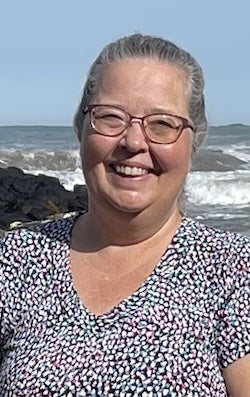 Dr. Robyn Fender has over 30 years of experience in education as a teacher at elementary, middle, and high school levels. She coached teachers for 15 years, giving feedback on instructional practices. Her experiences as a participant in the UTeach blended learning courses and as an academic coach on a blended learning campus bring both the theoretical and practical viewpoint to her work as a course facilitator. 
Robyn holds a B.S. in Elementary Education from Texas Lutheran College, a master's degree in Integrating Technology into the Curriculum from Walden University, and a doctorate in Curriculum, Instruction, and Assessment from Walden University. In addition to her work in public schools, she has served as a project manager and product developer at Education Service Center, Region 20.
Amy Wagner, Blended Learning Facilitator
Amy Wagner has been with the UTeach Blended Learning PD Team since December 2018.  A former middle school teacher with 13 years of experience, Amy taught 7th-grade science, 8th-grade science, geology, and the science Olympians electives. While teaching, she served as head coach for her school's Science Olympiad team, was the science department chair, and was nominated three times for teacher of the year.  
 Amy believes that students learn best through inquiry and loved the challenge of coming up with innovative ways to engage students. She enjoys that she's able to share her blended learning experience with those taking UTeach Blended Learning PD courses. She feels that just like students, educators learn best from each other. The collaborative discussions and feedback-based nature of the UTeach Blended Learning PD is engaging, and Amy feels the course helps to build the confidence of the teachers enrolled in the course. Amy feels privileged to be a part of the teachers' journey.   
Amy earned her B.S. in Geology with a Composite Science (8-12) certification from UTeach at the University of Texas at Austin. She completed her M.S. in Library and Information Science from the University of North Texas in Denton with a specialty in School Librarianship. In addition, she's certified for 4-7 Science and for School Librarianship.